When:
May 22, 2018 @ 6:00 pm – 8:00 pm
2018-05-22T18:00:00-06:00
2018-05-22T20:00:00-06:00
Where:
3137 San Mateo Blvd NE
Albuquerque, NM 87110
USA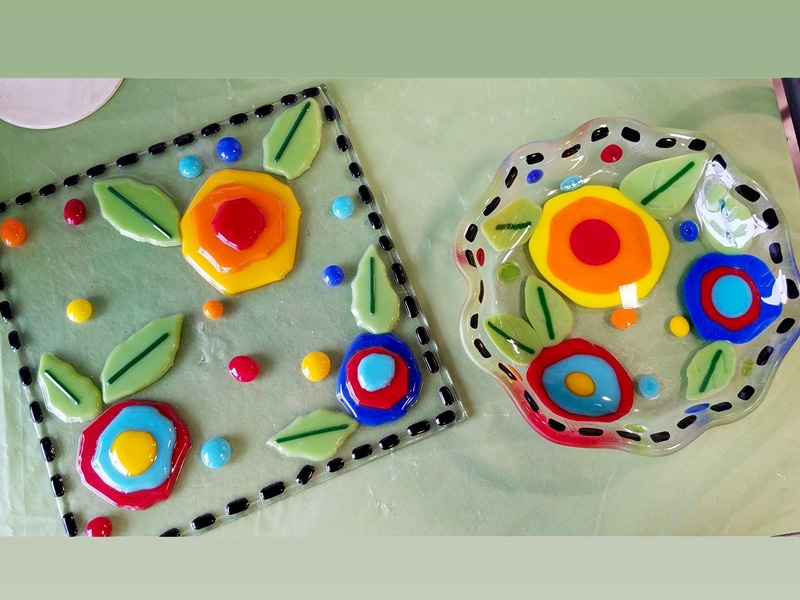 This will be a fun night to learn glass basics and create an awesome piece that you can't wait to show off to friends and family.
Fused glass is new to Art Attack and most folks don't know what is. Fused glass is similar to stained glass without the leading.
Designs are created by layering colorful shapes of glass onto a project base. Kiln firing brings those layers together for a smooth finish.
The $6.00 studio fee is due upon reservation. Glass prices start at $32.00 for an 6″ x 6″ size and $36.00 for a 6″ circular size. Larger sizes of glass will be offer for an upgraded price at the time of class.
If you wish for your piece to be shaped into a dish or a bowl, a $10.00 fee is charged for the second firing. Mold options will be sown at the time of class.
This class will be small and everyone's piece will be as unique as they are.
PLEASE CALL TO RESERVE 298-3275 or reserve online.
This class is available to ages 12 and up.
This will be a SMALL class with limited seating. Please sign up early if you are interested.

Leave Us a Review
In the comments below, please let us know how was your experience during this event.